Get the Ford Service and Repair You Can Trust at Gerald Ford
When it's time for your Ford vehicle to receive its next service, let the expert technicians at Gerald Ford in North Aurora handle the job. Our experience with Ford vehicles, catalog of Genuine Motorcraft parts, and high-level of customer service are sure to make your Ford maintenance or repair experience a good one. And for added convenience, we're open from 7 am to 6 pm so you have plenty of time to pick up or drop off your vehicle after work.
Common Services
An oil change is perhaps the most important service you can perform to keep your Ford model running smoothly for hundreds of thousands of miles. Your engine is full of fast-moving metal parts in close contact with one another, and the result is a tremendous amount of heat that can damage critical components. Oil lubricates these important parts to reduce both heat and friction, but it cannot do so indefinitely. Over time, the rigors of being inside your engine cause oil to break down and lose effectiveness, and your filter loses its ability to collect dirt to keep things clean. By having your oil and filter changed regularly, you're ensuring proper lubrication and the removal of foreign particles from your engine so that it can live a long and healthy life under the hood of your Ford vehicle.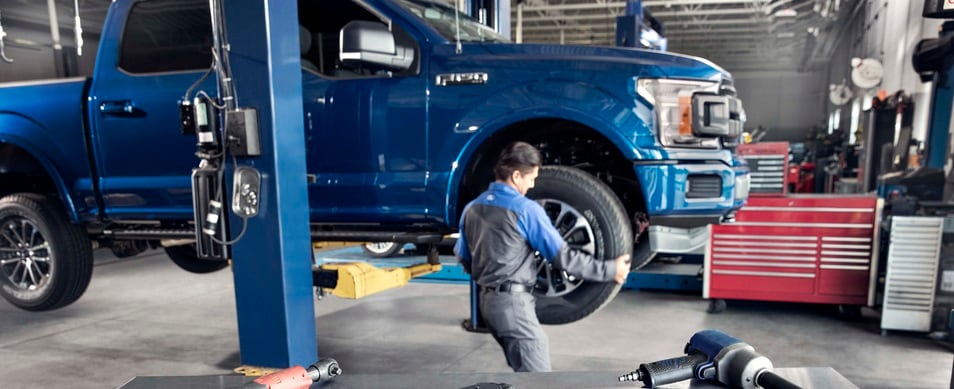 Once you get going, getting stopped is just as important. Our Gerald Ford service technicians know your braking system inside and out, and they can pull from a deep catalog of genuine Ford parts to ensure that any repairs or maintenance will deliver factory-new performance. Your brake pads clamp on to a spinning rotor to slow you down using friction, and over time this friction will wear down both surfaces. Knowing how far long your brakes are into their lifespan, and having these components changed before they become too worn, is critical to the predictable stopping power you need to keep you and your family safe.
As you travel from Aurora to Batavia IL you'll likely encounter rough roads worn from years of harsh winter conditions and scorching hot summers. While these bumps are uncomfortable behind the wheel, they are also taking a toll on your vehicle. If you suddenly notice a vibration, your steering wheel isn't pointed in the right direction, or you're pulling to one side or the other, that is the sign of a bad alignment. When you visit our dealership, we'll use state of the art technology to ensure that your suspension and steering are aligned to give you predictable handling and prevent the premature tire wear that comes along with a poor alignment.
Speaking of tires, our selection of tires will give you everything you need to tackle the ever-changing Elburn and Geneva IL weather. Whether you need snow tires for the long Sugar Grove IL winter ahead, or you're looking for a new set of performance tires for your Mustang or other sports car, you'll find a wide range of available brands and competitive prices so you can always make the best decision.
Tune up services can help if you have an older Ford model that just isn't quite performing like it used to. Over time, spark plugs can become corroded and your fuel system can become clogged with dust and dirt from the outside world. Even things such as engine timing can be slightly off from when you first brought your vehicle home, and all of these things combine to reduce the performance of your engine. If your older Ford model is feeling a bit sluggish, bring it to our dealership and our factory-certified staff will help breathe new life into your vehicle.
Visit Our Dealership Today!
If you're ready for your next Ford service appointment, visit our Gerald Ford service department today! Take advantage of our specials and promotions to save on your next service or repair, and if you've purchased your new Ford vehicle with us, enjoy the spoils of our lifetime warranty guarantee.